About Us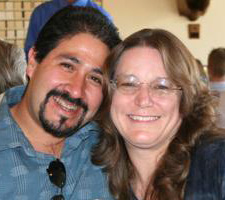 NimbleForce Creations is a small, family-owned development company currently residing in the beautiful high desert of southeastern Arizona. It is owned by David and Stacy Chitwood, and as of April 2010, Stacy has taken the reins as head of the company.
We have a desire to create a small corner of the Internet for our clients that is all theirs. We strive to create websites and blogs that reflect the personality and desires of each client, while remaining true to our natural inclination toward detail and excellence. All of our artwork is custom-made; we use no clip-art. All of our recent code is hand-written, heavily annotated, and validated. Although we will happily use stock photography at a client's request, we offer photographic services for local clients and studio photography for everyone. It is our goal to be your source for high-quality, fully-functioning, beautiful design and web development.
In 2011, NimbleForce Creations began accepting manuscripts for copy-editing. Stacy has a natural eye for the written English language, and often finds herself stumbling over mistakes in store-bought published novels. So, we decided to put this talent (curse?) to use. Our prices are extremely competitive, and the edits are thorough and accurate. Ask us about our great introductory price for new clients.
Stacy is an award-winning photographer with a passion for color and graphic design. She is armed with Photoshop and Procreate (for raster art), Blender (for 3D art) and Inkscape (for vector art), and she loves using them. Stacy's belief is that everyone has an artist within them; some people just have a harder time getting what they "see" out of their head where other people can see it. That's where Stacy comes in. She loves learning about her clients' ideas, styles, and personality and helping them to express their artist to the world. Apparently, with equal gray matter in both the left and right sides of her brain, Stacy is also a devoted and accomplished coder. She mainly gets the job done in HTML and CSS, with more and more excursions into Javascript and PHP, and she's always striving to learn new things. She has a positive, solution-based philosophy and a dedication to her clients that leaves them happy.
Dave is a talented artist and musician. He has worked in textiles for many years and he knows the industry well. He is an expert with vector graphics and screen printing. If you need a great t-shirt design for your business, club, organization, or family, Dave can help you make that a reality. He also offers consultations and tutoring in guitar. He's a patient, accessible, and knowledgeable teacher. Dave has produced an album, and is currently the lead guitarist in a local band.
Together, Dave and Stacy are enjoying their life together, doing their level best to create the life of their dreams. Life is great! Won't you join us!